Retailers, like companies in so many industries, continue to struggle with important shifts in consumer behavior driven by advances in digital technologies. Even the biggest brick-and-mortar brands are vexxed by trends like showrooming — the increasingly common practice of visiting a physical store to check out a product then going online to buy it at a better price. Daniel G. Bachrach, Professor of Management at the Culverhouse College of Commerce of the University of Alabama and co-author of the new book More Than a Showroom: Strategies for Winning Back Online Shoppers believes the blur and blend between digital and physical holds the key to building 21st century shopper experiences that win the hearts and minds of even the savviest consumers. In this guest post, Dan unpacks this idea. If you like what you read, be sure to check out his book for more thinking on this topic.

---
WHAT RETAIL CUSTOMERS REALLY WANT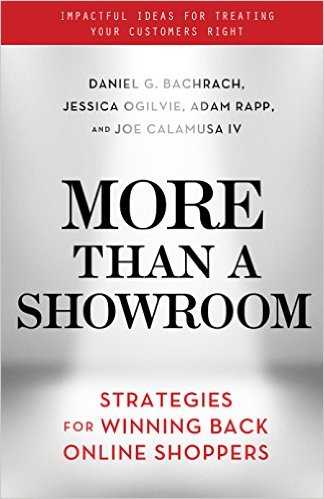 Customers want consistency between virtual and physical channels. Visual and functional consistency across channels, coupled with seamless channel interconnectedness decreases the likelihood that customers will seek out and/or make purchases from online or brick-and-mortar competitors. Because customers' experiences can easily and harmoniously flow from in-store experience to online purchases, and also from online research to in-store purchases, financial incentives to purchase elsewhere dissolve. An example of an inconsistency that can disrupt the customer experience flow are loyalty programs where points can be redeemed only on in-store purchases. This artificial barrier is inconsistent with customers' expectations, and they are more likely to search elsewhere for products where they aren't penalized for online purchases.
Showrooming customers want a convenient experience that includes digital resources such as coupons, check-ins, online price comparisons, and a wide range of transparent product information. Consumers want and expect these resources and information to be immediately available to them and delivered in the most efficient and convenient way. If retailers don't immediately and conveniently supply information and resources consumers seek, shoppers will very quickly find other vendors, such as online competitors, who will meet these expectations. Retailers can drive business and loyalty by offering such digital resources through online and mobile tools. For example, a clothing retailer in the Southwest began using SMS (short message service) for coupons and sent coupons directly to loyal customers via text messages delivered to their mobile devices. These coupons were not only appreciated but were actually preferred by the store's customers. While this is just one example, retailers have reported that these coupons can drive up to four times their normal in-store foot traffic.
The vast majority of shoppers are more likely to buy when retailers provide an experience that coincides with their expectations and their experiences with other retailers. This can be done in a number of ways, such as developing and regularly maintaining a useful, easy-to-navigate mobile platform website; establishing a convenient way to engage across store locations and website; creating easy-to-use smartphone shopping options, loyalty coupons, and other apps that specifically increase the attractiveness of shopping online with the retailer; and readily available in-store price comparisons. It is essential that customers' in-store experience be more mobile-technology friendly and deployed expressly with the goal of engaging consumers with dynamic technology that improves their in-store retail experience.
MAKING IT HAPPEN DEPENDS ON EMPLOYEES
Sales employees and retail associates must be trained to observe showrooming behaviors and taught to proactively approach customers with offers, promotions, and information to help to close the in-store sale. Store employees must engage with showrooming customers in ways that add value to customers' in-store experience. If owners don't adopt proactive approaches that prepare employees to actively and aggressively embrace showrooming, the competition—both brick-and-mortar and online retailers—will. Consumers appreciate educated sales representatives and the information and expertise they bring to the in-store experience.
This is critical – as many as 60 percent of customers may be more likely to make an in-store purchase after being helped by a knowledgeable, trustworthy store associate. The problem is that with increasing societal trends emphasizing virtual socialization, virtual entertainment, virtual communication, and virtual experiences, customers have become conditioned to their phones being more helpful than anyone in the store. This problem is intensified by the fact that sales personnel also are subject to these broad societal trends and may defer offering professional assistance when consumers break out their smartphones.
Equipping employees with the technology and tools consumers expect and value can help retailers meet and exceed consumers' expectations. Sales representatives armed with a tablet, ready and enthusiastically displaying price comparisons for customers, create and enhance the sense of value shopping. Proactive technology engagement also establishes a very different mood for the customer contact because now the encounter centers on discussion of value as opposed to customers seeking price comparisons in isolation on their smartphones and making judgments without input from the retailer.
STAYING AHEAD OF THE TREND
It is critical that retailers cater to consumers' expectations in this new reality before sales are lost to competitors or online-only retailers. Early identification of consumers' changing needs and expectations also fosters customer loyalty that can contribute to long-term sales growth. Betting on technology now and making investments to prepare for the pervasive shift in retailing is crucial. Retailers must carefully cater to the technology expectations of showrooming customers. Smartphone applications with digital product coupons, loyalty programs, and check-ins are convenient for consumers and enhance their feelings of value shopping.
These conveniences, which are increasingly taken for granted, prompt immediate purchase decisions (resulting in more in-store sales) while customers are still in the store. Customizing online offerings begins to create experiential parity with online retailers. Offering personalized prices through mobile devices may be among the most effective ways to engage digital shoppers. Retailers who embrace showrooming as a legitimate component to the retailing experience can help create new solutions to enhance customer engagement. Half of all high-performing retailers agree that timely, convenient, tactical in-store technologies can improve the effectiveness and impact of their salesforce.
To enhance the value of the retail shopping experience for customers, it is essential to blend the benefits of offerings throughout the shopping cycle. From product research to price comparisons to the point of purchase, retailers must embrace and utilize technology to enhance the retail experience, effectively negotiate showroomers' expectations, and build brand loyalty and repeat sales. Adopting a contemporary approach to navigating the brave new world that is dominated by customers operating with a multichannel research capability will separate the winners from the losers in the retailing game over the next ten years.